Tom Brady, Lieutenant, Warwick Fire Department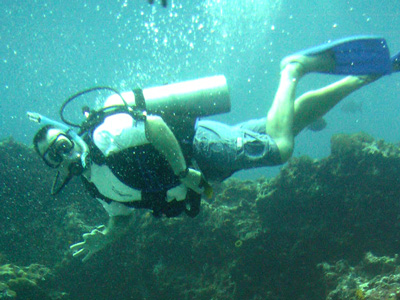 I would like to take a moment to tell you about my experience with Rainbow Reef in Key Largo, Florida. I was there for my IDC IE and MSDT in October into November. Starting from before I even left home the staff at Rainbow Reef was always available by email or phone to help with any questions I had and to prepare me for the class. The tests that I took online helped me to identify weaknesses I had and address them before I ever even set foot in a classroom, and they were monitoring my progress the entire time, offering support and helping to get me prepared.
From the moment I arrived I felt completely welcome, Allison and the front desk staff helped me to arrange an amazing day of diving before class began and helped me to get myself situated in my new environment. The dorm at the shop was clean and lended itself well to the overall learning experience as my roommates were all studying the same things and if we had a question the interns Stephan and Devon were always a helpful resource. On my first day in the class room I took the dive theory class with Chance, his instruction and attention to detail were exactly what I needed to get through the written portion of the IE.
The next day was the beginning of the IDC and when I met Course Director Ross Neill, Ross is a great instructor whose acting background translates very well to his teaching ability. His "demonstrative quality" was amazing and after watching him demonstrate skills I admit I "stole" a few of his moves to use myself, when the time came for the skills demonstration portion of the IE I was able to get a perfect score of five fives, this is the real testament to what I learned by watching Ross. I don't know where to begin when talking about the other instructors Kevin Marks, Billy Wise and Chris Adams, their guidance and instruction throughout the IDC and MSDT were exactly the preparation I needed for the IE and in my continuing career as a PADI instructor. The IDC at Rainbow Reef gave me all the confidence, skills, tools and knowledge I needed to get through my IE.
I cannot express my gratitude and appreciation enough to the staff of PADI professionals at Rainbow Reef, I often tell people that my experience there changed my life and that is in no wayan exaggeration. Please pass along my praise to this group of dedicated divers, without them I wouldn't be where I am today.