DiveHeart Certification and Information
Scuba Diving is a sport that can be enjoyed by people of all abilities and our Diveheart programs for will allow you to work as an Adaptive Dive Buddy, an Advanced Adaptive Dive Buddy (Dive Master) or as an Adaptive Scuba Instructor (Instructor) to assist people with physical challenges in enjoying the underwater world.
What professional skills will you learn?
Diveheart training centers around developing widely applicable skills. This is done via land clinics, theory discussions, and empathy training. We utilize black out masks, tied limbs, and other tools so that each Adaptive Buddy and Instructor candidate can better understand what their Adaptive Divers are dealing with.
Teamwork
When diving with Adaptive Divers we always utilize a team of at least three people. When dealing with a more complex Adaptive Diver such as a complete quadriplegic wherein each team member plays a unique role, strong teamwork is mandatory! Throughout the entire program everything you will do will be within a team, this is especially stressed though during the quadriplegic workshops.
Trust
Your "basic" dive skills will be very tested through this course.
Adaptive Divers often are completely reliant on their buddies, the level of trust between them is immense. We will focus on what you can do as a buddy to help instill that trust in your students. It is also incredibly important that you can trust in the other team members that you are working with. Again this is a skill that is developed at every stage of the program, however it is perhaps most obvious during the transfer training.
Communication
Communication underwater is always tricky, add in that you are dealing with a larger team, usually dealing with more complex issues, and can have a member of the team that can't utilize standard scuba signals (either through a visual impairment or an inability to form them) and communication skills become very tested. Briefings and debriefings must be very thorough! You will be introduced to a brand new set of signals in tactile signing, designed to communicate with visually impaired divers.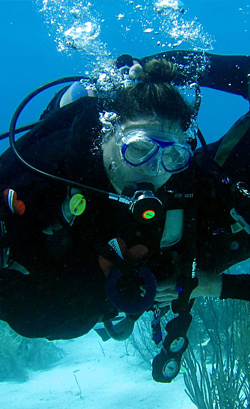 Dive Skills
Your "basic" dive skills will be very tested through this course. Task loading and stress testing ensures that even the most experienced divers will be challenged. Briefings, debriefings, spacial awareness, buoyancy control, skill demonstration, comfort underwater, airway control, and trim control will all be tested and developed to an elite level. Every diver, from new Divemasters to Instructors with years of teaching experience, has commented that they feel their dive skills are improved through the completion of this program.
Adaptability
This is the main focus of the program! As an Adaptive Buddy or Instructor you are certified to dive with people with very different abilities. Utilizing Diveheart's Needed Scuba Assistance (NSA) we will teach you how to find out how much assistance each specific Adaptive Diver will need and how to best accommodate them. We focus not on teaching what potential solutions are but instead developing the skills to identify them yourself.
Paraplegic divers can still use their arms for propulsion but may have a partial or complete loss of sensation and motor skills in the lower half of the body. We conduct empathy training by tying the diver's legs together to experience what it feels like to be a paraplegic diver and learn how to structure a team around a pareplegic diver's needs.

Quadriplegic divers who don't have the ability to use their legs and arms may need to be part of a bigger adaptive dive team but can still partake in diving. The Adaptive buddy or instructor team may simply need to propel and equilize the diver as well as assist in entering and exiting the water.

Amputees can definitely still dive but the Adaptive Instructor may need to help them find ways to complete certain skills.

People with limited or no sight still get a great thrill out of enjoying the sensation of weightlesness and the adaptive instructor will learn a set of communication techniques such as tactile signaling to communicate with the diver. We practice this through empathy training so you too will understand what it feels like to dive blind.

Other physical or psychological challenges can be overcome and can create a very positive sensation for the diver. It's up to the adaptive buddy or adaptive instructor to work around any obstacles and help the adaptive diver achieve the appropriate level of certification.
This is the ideal professional training for anyone with a passion for human beings and those looking to further set themselves apart as scuba professionals.
Why DiveHeart?
Diveheart's mission is to build confidence, independence and self- esteem in the lives of children, adults and veterans with disabilities through scuba diving, scuba therapy and related activities. Their vision on adaptive diving is to instill the "can do" spirit in participants, inspiring them to take on challenges that they may not have considered before. Using zero gravity and the adventure paradigm, we help participants believe that if they can scuba dive they can do anything.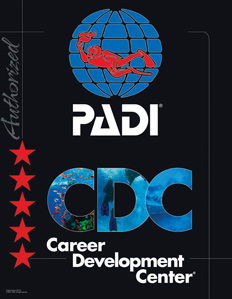 We've discovered the forgiving, weightless wonder of the water column provides the perfect gravity-free environment for those who might otherwise struggle on land. Underwater, we're all equal. Diveheart works with individuals who have a variety of disabilities, including physical and cognitive disabilities, vision and hearing impairments, amputations, traumatic brain injuries, Post Traumatic Stress Disorder and more. Diveheart seeks to help it's participants "Imagine the Possibilities" in their lives.
Rainbow Reef is ALSO the world's FIRST 5 STAR DiveHeart training facility!
DiveHeart Certification and Training Offered:
The DIVE HEART Adaptive Dive Buddy course introduces Adaptive Diving to anyone interested in learning about diving with a disability. By the end of this program, a candidate will be able to be a successful and comfortable member of an Adaptive Dive Team.

$470.00


Tuition

The DIVE HEART Advanced Adaptive Dive Buddy requires additional scuba certification prerequisites while introducing advanced adaptive scuba buddy skills, techniques and protocols as well as knowledge of specialized advanced adaptive equipment.

$570.00


Tuition

The DIVE HEART Adaptive Scuba Instructor program introduces the open water scuba instructor to innovative Diveheart Adaptive Diving protocols, assessment tools and techniques to prepare him to work with divers with disabilities.

$900.00


Tuition