OCEAN REEF Integrated Dive Mask (IDM)
Become an expert in the use of OCEAN REEF Full Face Integrated Diving Mask and Underwater Communication!
The OCEAN REEF Factory Sponsored Instructor Course (FSIC) gives you the knowledge and experience to dive with more comfort and convenience. We also pay attend to how OCEAN REEF systems will increase efficiency in the provision of regular diving lessons.
Fogging or leaking from your mask belongs to the past. With an OCEAN REEF full face mask you have more than a 180o field of vision. Breathe through your nose for a more natural feel. In addition, no more cramping in your jaw by holding a bite block.
During this course, you will learn how the OCEAN REEF systems will efficiently contribute to providing diving lessons and increase safety during guiding underwater groups.
So here we introduce a new way of diving.
Two OCEAN REEF Instructor Specialty's in Two Days:
The two-day FISC deals with the latest OCEAN REEF Integrated Dive Mask (IDM) and Underwater Communication systems. The course is presented to you by a Training Development Coordinator of OCEAN REEF. Both days consist of a course and a swimming pool session with practical workshops.
You will need to bring your own dive gear, including a traditional back up dive mask. Rainbow Reef IDC will take care of the presence of IDM and Underwater Communication systems.
Participation to the course demands minimal preparation. Beforehand, you will receive digital files containing the course material (in English). During the course we will discuss the theoretical part and go into more detail regarding the right use of the material. Furthermore, practical workshops will be given, in which you learn ways to make the right gear adjustments and to prepare yourself before going underwater.
In-water Session
The FSIC will provide you ample opportunity to experience the OCEAN REEF Integrated Dive Mask (IDM) systems. During demonstrations, you will learn new underwater skills and how to put these skills in practice during teaching. At the end of the two days, you will be able to provide knowledge to students in a professional manner and teach underwater more effectively with the help of the IDM and Underwater communication systems.
Instructor credentials after the course and "Get Your Own Gear"!
After finishing the course successfully, you will receive an OCEAN REEF IDM (Integrated Dive Mask) certificate. This certificate will suffice to request an acknowledgment at your own training organization to provide:
OCEAN REEF Integrated Dive Mask Specialty Diver

OCEAN REEF Underwater Communication Diver

OCEAN REEF IDM and Underwater Communication Diver
Ask about a special OCEAN REEF® Instructor Kit offer, which is valid for instructors who register and complete an OCEAN REEF Factory Sponsored Instructor Course.

This package consists of:

Neptune Space G.divers IDM

GSM Underwater Communication Unit

M101A (Listening Unit)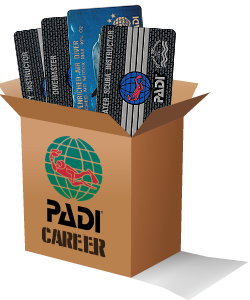 Choose the guided path and let us help you decide, or hand select your own courses, specialties and options to build your own customized diving package to see what the next steps are.Get Started