PADI Award Winning 5 Star CDC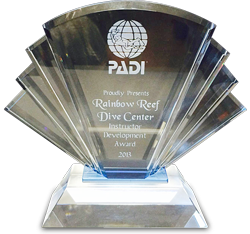 Rainbow Reef has some of the most experienced and award winning instructors that you can find anywhere in the world. All of our Recreational Dive Instructors are PADI Master Scuba Diver Trainers (MSDT), PADI IDC Staff Instructors, or PADI Master Instructors. are personally trained by our three Platinum Course Directors in our own PADI 5 Star Career Development Center.
Rainbow Reef IDC received PADI's highest honor in 2013: The "PADI Instructor Development Award"
Our Professional Education Staff consists of 6 PADI Course Directors, 3 of which have been consistently awarded Platinum Status. They are supported by our robust staff of PADI Master Instructors and PADI IDC Staff Instructors. All together they form our dedicated IDC/CDC team and they have come together to create the best real world training environment you could ask for. We put this team together not just because of their experience, but because we believe our team philosophy and approach translates to a better learning experience for our Instructor Candidates.
Our dedicated IDC/CDC team has come together to create the best real world training environment you could ask for!
Most PADI IDC centers have a single Course Director, and while there is nothing wrong with that, and we believe there are no "bad" Course Directors out there, we've found our team approach to work better than almost any single Course Director because of our staff's range of experience, teaching styles and personalities you have the opportunity to be exposed to and learn from.
Many members of our IDC/CDC team have won personal awards, as well as been part of our organizational awards. For example, 5 separate times - and more than any other dive center in the world - our instructional staff members or our Dive Center have won the prestigious "PADI Member of the Month", or "Dive Center of the Month" where ONLY 1 Instructor or Dive Center in the whole world is honored each month. Each region has a finalist, and then from those regions, they pick the best of the best, so just 12 are recognized as the best each year.
2 of our Course Directors and 1 of our IDC Staff Instructors have won "PADI Member of the Month", 4 different times.
No other IDC or CDC has had 2 different Course Directors win this award, and if that isn't enough then consider that one of our Platinum Course Directors is a repeat winner, something no other IDC, CDC, Instructor or Course Director can say.
Our Dive Center as an organization won "PADI Dive Center of the Month" 1 time, and not long after that we won it regionally and were "Best in North America." As a Dive Center we've consistently trained and certified thousands of students each year, earning us lots of industry recognition from PADI in everything from "Goals for Growth" to "Instructor Development Awards."
Below is a small sample of some of our awards and recognition: