Master Scuba Diver
PADI Master Scuba Diver consists of multiple programs. To qualify as a PADI Master Scuba Diver, one must complete the Advanced Open Water Course, Rescue Course, Enriched Air course, Emergency Oxygen Course, Deep Diver, Night Diver and Underwater Navigator.
PADI Advanced Open Water
PADI Open Water Divers who are ready to step up and enroll in an Advanced Open Water Diver course can enjoy the Exploration, Excitement, and Experiences. That's what the PADI Advanced Open Water Diver course is all about. Divers don't have to be "advanced" to take it — it's designed to advance their diving, so they can start right after earning their PADI Open Water Diver certification.

The course helps build confidence and expand scuba skills through different Adventure Dives. Divers will try out different specialties while gaining experience under the supervision of their PADI Instructor. Students log dives and develop capabilities as they find new ways to have fun scuba diving. Students plan their learning path with their instructor by choosing from a long list of Adventure Dives.

There are two required dives — Deep Adventure and Underwater Navigation — and students choose the other three, for a total of five dives.
Deep Adventure Dive
During the Deep Adventure Dive, students learn how to plan dives to deal with the physiological effects and challenges of deeper scuba diving. The Underwater Navigation Adventure Dive refines their compass navigation skills and helps them better navigate using kick-cycles, visual landmarks and time.
The other knowledge and skills students get vary with their interest and the adventures they have — photography, buoyancy control, fish identification, exploring wrecks and many more.
PADI Rescue Diver
Scuba divers describe the PADI Rescue Diver course as the most challenging, yet most rewarding course they've ever taken. Why? Because students learn to prevent and manage problems in the water, and become more confident in their skills as a diver, knowing that they can help others if needed. During the course, students learn to become a better buddy by practicing problem solving skills until they become second nature.
The PADI Rescue Diver course prepares students to deal with dive emergencies, minor and major, using a variety of techniques. Through knowledge development and rescue exercises, they learn what to look for and how to respond. During rescue scenarios, they put into practice their knowledge and skills. Topics include:
Self rescue

Recognizing and managing stress in other divers

Emergency management and equipment

Rescuing panicked divers

Rescuing unresponsive divers
Students will use their basic scuba equipment and will need a pocket mask to practice in-water resuscitation. During exercises, they'll work with an oxygen unit, floats, marker buoys and perhaps CPR mannequins.
Emergency First Response
Emergency First Response training focuses on building confidence in lay rescuers and increasing their willingness to respond when faced with a medical emergency. Course participants learn simple to follow steps for emergency care and practice applying skills in a nonstressful learning environment. All courses are supported by self-study manuals, videos and quick reference cards to enhance learning and allow you start learning right away.
EFR courses meet the CPR and first aid training requirements for the PADI Rescue Diver course and all professional-level ratings.
Primary Care (CPR) — This course teaches you the steps and techniques for handling life-threatening emergencies. You'll practice eight skills for aiding patients who aren't breathing, have no heartbeat, may have a spinal injury, may be in shock or who may have serious bleeding. You'll learn to how to perform CPR and continue to monitor the patient, so that you provide every possible chance of survival while waiting for emergency medical services to arrive.

Secondary Care (First Aid) — Because many medical conditions are not life-threatening and emergency medical services are sometimes delayed or unavailable, this course teaches you how to provide first aid that eases pain and reduces the risk of further harm. You'll learn to assess a variety of injuries and illnesses and practice bandaging and splinting.

Care for Children — This course allows participants to learn, practice and apply emergency care skills specific to helping infants and children with medical emergencies. It's designed for those who work with children or are likely to have to respond to emergencies involving youngsters. This course is often integrated with Primary Care (CPR) and Secondary Care (First Aid) courses.

CPR & AED — This course focuses on CPR training and teaching participants how to use an AED (automated external defibrillator). When workplace or governmental requirements specify this training, the CPR & AED course meets the need. This course is often integrated into First Aid at Work programs.

First Aid at Work — In some areas, such as Great Britain, Australia and Canada, governmental regulations call for enhanced CPR and first aid training for the workplace. First Aid at Work programs designed for these areas include additional topics and skills to meet requirements while following the easy to learn EFR approach to training.

EFR Refresher — It's a good idea to refresh your CPR and first aid skills every 24 months, and that's what the EFR Refresher course is designed to do. Focusing on key skills, the course allows you to stay up-to-date and ready to lend aid when needed.
Emergency Oxygen
There are no prerequisites, age restrictions or water sessions required for this course — it's open to everyone
Knowing how and when to use emergency oxygen is a great skill to have and means students are ready to help others should the need arise. Becoming a PADI Emergency Oxygen Provider lets you breathe easy knowing that you can recognize scuba diving illnesses treatable with emergency oxygen, and are prepared to offer aid.
There are no prerequisites, age restrictions or water sessions required for this course — it's open to everyone. Scuba divers, snorkelers and anyone who is around divers — boat crew, lifeguards, etc. — will benefit from having this training. You'll learn about dive injuries, different types of emergency oxygen equipment and safety considerations when using oxygen. Then you'll practice:
Assembling and disassembling emergency oxygen equipment.

Deploying a non-rebreather mask and a demand inhalator valve on a breathing diver.

Using a pocket mask on a nonbreathing diver.
PADI Underwater Navigator
The PADI Underwater Navigator course fine-tunes a students' observation skills and teaches them to more accurately use their compass underwater. If you like challenges with big rewards, take this course and have fun finding your way. You'll learn the tools of the trade, including navigation using natural clues and by following compass headings. During three scuba dives, you'll practice:
Methods to estimate distance underwater.

Compass navigation while making at least five turns.

Marking or relocating a submerged object or position from the surface.

Underwater map making.
PADI Deep Diver Specialty
The lure of the deep. There's something exciting and mysterious about exploring deeper dive sites while scuba diving. Sometimes it's a wreck that attracts divers below 18 metres/60 feet, and on wall dives it may be a giant fan or sponge. Whatever it is, to scuba dive with confidence at depths down to 40 metres/130 feet, you should take the PADI Deep Diver Specialty course. Training starts by reviewing reasons for deep diving and how important it is to know your personal limits. During four deep dives with your instructor, you'll go over:
Specialized deep diving equipment.

Deep dive planning, buddy contact procedures and buoyancy control.

Managing your gas supply, dealing with gas narcosis and safety considerations.
PADI Night Diver Specialty
The thought of dipping below the surface at night seems mysterious, yet so alluring. Although you've been scuba diving at a site many times before, at night you drop into a whole new world and watch it come to life under the glow of your dive light. The scene changes as day creatures retire and nocturnal organisms emerge. If you've wondered what happens underwater after the sun goes down, sign up for the PADI Night Diver Specialty course. Scuba diving at night teaches you to focus on what you can see in your light's beam, on controlling your buoyancy by feel, on staying with your buddy and on paying attention to details you may overlook during the day. During three night dives, you'll practice:
Light handling and communication techniques.

Entering, exiting and navigating in the dark.

Identifying how plants and animals differ or change behavior at night.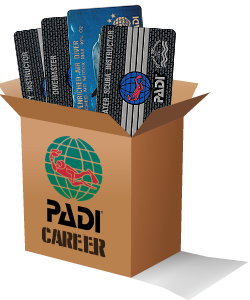 Choose the guided path and let us help you decide, or hand select your own courses, specialties and options to build your own customized diving package to see what the next steps are.Get Started