DiveHeart Advanced Adaptive Dive Buddy
The DIVE HEART Advanced Adaptive Dive Buddy requires additional scuba certification prerequisites while introducing advanced adaptive scuba buddy skills, techniques and protocols as well as knowledge of specialized advanced adaptive equipment.
By the end of this training, a candidate should be able to be a successful and comfortable advanced member of an Adaptive Dive Team.
Develop adaptive dive team skills, learn and understand all the roles and responsibilities necessary to successfully coordinate every aspect of an adaptive dive. When working with an adaptive diver in real world confined and open water scenarios, you MUST abide by the appropriate adaptive dive team requirements.
However, during Adaptive Dive Buddy Training, the blind and paraplegic scenarios can be can be performed in two person teams. Each team member completes the confined water skill set as both the adaptive diver and adaptive buddy. Quadriplegic scenarios require three person teams; each team member rotates through until they complete the confined water skills as the adaptive diver, forward, and rearward adaptive buddy.
Prerequisites: 18 years or older. PADI Rescue Diver certified or equivalent. Logged at least 40 open water dives. Current in CPR & First Aid. Certified Adaptive Buddy (or enrolled in a joint ADB & AADB course).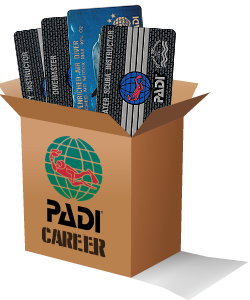 Choose the guided path and let us help you decide, or hand select your own courses, specialties and options to build your own customized diving package to see what the next steps are.Get Started